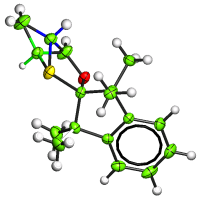 CRYSTALS v14.23c installer is available to download for the Windows platfom.
[Update – patched version 1423c released 27 May, fixes format problem with tiny weights in FCF, CIF input bug]
Selected highlights:
Added bond colouring to indicate either element type, or disordered part
Improved robustness of weighting scheme 17 (Shelx weights)
Output observation weights in FCF CIF
Allow omission of Friedel pairs of reflections from Absolute Configuration plots.
Fixed crash on 'Select All' atoms for large structures.
Fixed Hide/Show H button on toolbar.